Every spring a sea of travel Instagrammers I follow seem to flock to the Greek islands and fill my feed with beautifully white cascading buildings accented with the quintessential blue domes you associate with Greece. Frankly, it's enough to send a girl into a fit of envy. I have always dreamed of going to Santorini and Mykonos and finally this last June I was able to cross another big destination off my bucket list once and for all!
Prior to going, I knew that the trip was going to be expensive. Both Santorini and Mykonos are only really 'open for operation' between May and October and even then, if you're not there in the peak summer months (June - September) it can be a little too cold/windy, or be kind of dead. Nevertheless, I was looking to do this destination the right way and quickly accepted the fact that I may have to pay a heavy price tag for it - sometimes you just gotta treat yourself!
Although I knew this trip was going to get expensive from takeoff I started my accommodation search the way I always do, with a scroll through Booking.com. I used this website on my last trip to Italy and quickly appreciated the vast variety of accommodations they offer. From hostel stays to people's apartments to luxury villa's and boutique cave hotels, they seem to have every type of accommodation under the sun at a variety of price points. My goal, however, wasn't to find cheap accommodations. I wanted to experience true Hellenic hospitality and so I sought out those hotels that provided the picturesque views I was envious of when seeing those Instagrammers photos. Something quintessential of the destination that would give me the full, real experience. Also, another great thing about this website is that every once and a while you do come across a hilarious review that makes the research portion of planning a trip so much more fun - LOLz!
After finding and securing two perfect places to stay and booking our flight, Adam and I were ready to go. We didn't bother planning too much ahead in terms of restaurants and activities, because the hotel we were staying at in Santorini said it isn't really necessary in June - reservations can easily be made the day of or a day in advance at the most. Going with the flow is not my usual style, but we decided to take their advice and see how it played out. In the end, they were right and I was still able to comprise Two 'Eat, Stay, Play' survival guides for you so HERE WE GO!
SANTORINI, GREECE
Essentially Santorini is made up of 3 larger towns and villages - Fira, Imerovigli and Oia. They are all situated on the steep cliffs of the island and face the caldera. To my surprise and what I didn't know prior to visiting, is that Santorini is a volcanic island with all the beautiful towns you see in the photos are situated on the inner lip of the mouth of the volcano! CRAZY RIGHT!?
EAT
Ammoudi Tavern in Oia - Adam and I had an absolutely sensational seafood dinner at this restaurant in Oia. Although it did involve having to drive there, we totally made an evening of it. We went early to catch the sunset beforehand and once the sun went down, made our way to the little cove below the city where the restaurant can be found. It was very romantic and I would have easily gone back again if we had the car for an extra day.
Argo in Fira - This restaurant was a beautiful 'hotel recommendation' and I am so glad they did because it would not of been something I would of found on my own. It was one of the best meals we had while in Santorini and I can still remember the delicious seafood plate for two Adam and I ordered. We spent the evening sitting on their second-floor deck overlooking the Caldera and tiny pathway filled with shops and people, drinking house wine and giggling. The food was spectacular and in very traditional Greek style. The service was friendly, fast, attentive and it easily became one of the best meals of our trip!
To Psaraki Tavern- a favourite amongst locals this seafood restaurant gets busy at lunch and after eating there I can see why. The fish was fresh and very beautifully prepared. The restaurant was perched atop a cliff looking over the marina where the sailboat charters come in (you should definitely go sailing while in Santorini - more about this recommendation below) and provides a relaxing atmosphere away from the city crowds for you to enjoy your lunch. The staff was friendly and parking was easy. It is also smack in the middle of Eros and Perivolos Beach (more on this to come as well) so it's a great pit stop on your way from one beach to another.
STAY
*use my discount code to receive 15% off your next accommodation reservation with Booking.com
Iconic Santorini - A Boutique Cave Hotel - situated in the small village of Imerovigli this hotel is what Santorini vacation dreams are made of. This 17 room boutique hotel offers comfortable, clean, cozy accommodations carved into the mountainside. The hotel recently underwent renovations in 2013 and has been completely modernized and redecorated in a natural, traditional Hellenic style. Each room comes with its own private terrace and two day beds - a perfect spot to enjoy your complimentary breakfast.
Although the hotel felt very luxurious the staff aimed to make you feel at home and comfortable. They were so very accommodating, greeted you every time they saw you, and even allowed for special dinner menu requests from guests. Chef Mattheos - a Santorini native - makes special trips to the market each day to gather fresh ingredients for his dinner menu and was kind enough to pick up an octopus especially for me one evening. His menus often reflect what is in season and is prepared in a traditional Greek manor. Many of the recipes and techniques he uses have been passed down through his family for many years. The food at the hotel was sensational and very reasonably priced. Although we ate out several times, the view from the dining area at the hotel was one of the best we experienced our whole time in Santorini! It's honestly one of those hotels you could enjoy being cooped up in your entire trip and feel totally content about it.
Since the hotel is perched upon the highest cliffs in Santorini, it does have a 'no children under 14' policy (mainly because a 1000 foot drop off the cliff side is a dangerous risk), but for those who are interested in a quiet, calm, adult-only atmosphere, one will quickly realize it is the perfect spot. In the end, my stay here was hands-down the best hotel experience I have ever had and I have nothing but great things to say about my stay at Iconic. I'll definitely be going back!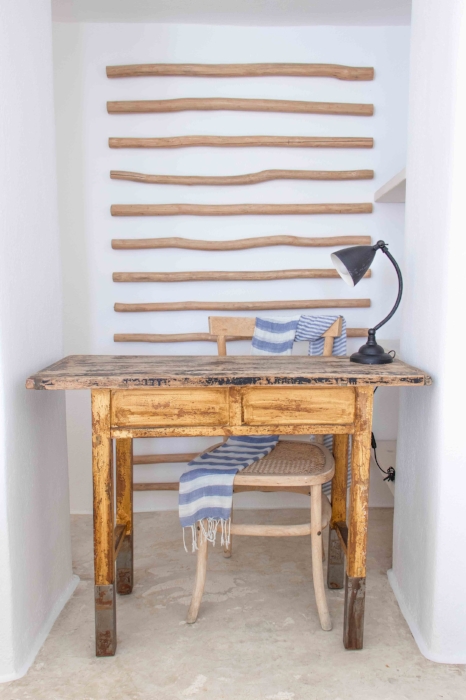 PLAY
Santorini Sailing - one of the best activities we did while in Santorini was a 5 hour sail around the south side of the island. Adam and I were walking into Fira one night for dinner when we passed the Santorini Sailing storefront and decided to step in out of curiosity to check out prices. At this point it was 9PM and we wanted to sail the following morning. Usually the rates start as low as 90 Euro per person however in our case that boat was sold out. Lucky for us they bumped us up to the semi-private boat which included lunch and unlimited drinks for the same cost! BRILLIANT! The sailing company picked us up from our hotel at 8AM the next morning and we were sailing by 9! It was such a beautiful day! The crew were so friendly and told us all about the different island formations and areas. The food at lunch was great and they were always offering to help take your photos, making sure you were having fun, and always had a cold beverage.
Tango Bar, Fira - This champagne and cocktail bar was recommended to us by a couple people we met during our stay and so happy they did! Adam and I went and enjoyed a couple glasses of wine at Tango after dinner one night (the party doesn't really start to happen till after 11PM so go late) and danced to some great house music. The bar to me has more of a club feel but unlike many of the other bars we went to, is cliffside and offers great views of the water and surrounding lit up city at night.
Rent a car - although our hotel was amazing and I could literally spend all day there and be happy as a clam, Adam and I wanted to explore all the island had to offer. The hotel was amazing at helping us arrange a car and for 60 euros and 24 hours of freedom we thought why not. If you want to check out Eros or Perivolos beach - or even just go into Oia for dinner and watch the sunset you are looking at a 40 Euro taxi ride each way so may as well rent a car for a day and do all of it! Navigation and parking isn't difficult so it's actually one of the best options if you want to be more mobile and explore the island further.
Oia - A lot of the Instagram photos you see of Santorini are actually taken in Oia. It is a beautiful town with many busy streets and is known as the best place to watch the sunset! Although it's a bit of a distance from Fira and Imerovigli I definitely recommend checking it out at least once. There is a hiking path you can take from the hotel that is supposed to be about 2 hours walking or you can drive there within 15 -20 minutes. Since Adam and I rented a car it wasn't an issue getting to Oia and actually made for a nice drive. If you didn't want to rent a car and just take a cab expect around a 40 Euro price tag for a taxi one way.
Eros and Perivolos Beach - another great activity to do if you have the ability to move around the island and want to spend a day at the beach. Since we had a car for the day we were able to go explore both Eros and Perivolos Beach (the black beach) and see the different landscape of the island. These two beaches are both on the more flatter end of the island and are filled with beach clubs and restaurants - a much different vibe from the cliffside towns
Next stop on our Greek island hopping tour was Mykonos - the party island! Although we did look into flights from Santorini to Mykonos we figured the most viable way to make the journey was to swim. JUST KIDDING! We took a ferry for 70 Euro a person and within 2.5 hours we arrived in Mykonos!
MYKONOS, GREECE
So what we quickly learned about the island was that all the big beach clubs and the majority of hotels are all located on the south side of the island. The north side of the island has picturesque secluded beaches with lovely restaurants, but for the most part everything is happening on the south side. Also the BIG party day in Mykonos is Sunday so if you can work your itinerary to be there on the weekend like we did, you can really get a taste for the party scene. Lastly, although we did rent a car for a day while in Mykonos, navigating was not as easy as Santorini. We did get lost and had to turn around a handful of times, not to mention I've never experienced so many blind corners in my life!
EAT
Kiki's Tavern - this places is no joke! It was hands-down one of the best afternoons Adam and I had the whole time we were in Mykonos and it wasn't just because of the food. Picture a little wooden restaurant, next to a secluded beach with their own private swimming cove. You show up, add your name to the list, which already has an hour long wait, and help yourself to complimentary rosé while you enjoy the ocean view. The wine starts to hit you quicker then usual because 1) hungry and 2) in the hot sun, so you walk down to the waters and go for a dip to cool off. You do this several times until your table is ready and then you enjoy a beautiful meal in the shade with a picturesque view of the water. Beautiful!
Nikolas Tavern - Loved this place! Mainly because it was a family run and owned business and you could really see how they put their whole heart into operating it. There are family photos all over the walls inside and they are so welcoming and ready to offer you something to drink. The restaurant is right on the beach so you can go early to watch the sunset and then hang under their illuminating overhead string lights while you enjoy some traditional Greek food. They also had 14 Euro half litre pitchers of wine which was a perfect way for me to get a little tipsy before going out. Adam and I loved it here and since it was only a short walk from our hotel we ended up coming back several times during our trip.
STAY
*use my discount code to receive 15% off your next accommodation reservation with Booking.com
San Giorgio - What really attracted me to this hotel was the bohemian aesthetic. When you see pictures of Mykonos you usually see pictures of the town – all the white buildings with blue windows and railings. What you don't see is that the island is actually very rustic and when you get out of town, more bohemian, airy, and minimalistic. Land is still used for farming and every once and awhile you will see small herds of animals. My hotel San Giorgio was on a beautiful point between two of the best beaches to party in Mykonos – Paraga and Paradise – making it a great location for anyone looking for that Mykonos party experience.
The hotel itself is beautifully laid out and upon arrival we were ushered down to the pool, given a welcome glass of prosecco, and a breakdown of the hotel. We were informed that our stay included a complimentary breakfast, a free 30 minute training session with the hotel trainer Panos, and were encouraged to participate in one of their many free workshops, talks, and meditations that happen daily. The philosophy of the hotel is to be a communal space where creatives can come to meet and inspire one another. We met a lot of interesting people while we were there and everyone was so friendly and open to chatting, making it super easy to buy into the concept and make new friends.
San Giorgio is a member of the Design Hotel Collection which made it no surprise that the rooms were beautiful. Although not as luxurious as the Iconic Santorini, there was beauty in their understated, earthy, and airy simplicity. It really emulated bohemian chic perfectly with earth-tone painted walls, straw hat decorations, and lights made from natural material. This boutique hotel has only 34 rooms, but each one comes with a little terrace adorned with at minimum a small table and a couple stools. Although you can hear the echoes of the beach club a short distance off it was definitely a nice close haven to escape to when you get sick of the parties.
PLAY
Mykonos Town - Mykonos Town is picture perfect. This is where you will see all the white buildings and stone-painted (it's not real stone) ground. A lot of pictures of Mykonos are taken in town, especially by the windmills in Little Venice! Go for an afternoon and get lost down the winding alleyways, in and out of small shops, and restaurants and bars - you won't regret it.

Scorpios - A contemporary take on the ancient Greek Agora, Scorpios is the best beach club on the island and definitely more on the posh side. Drinks will run you between 9-12 Euros so unless you have money to blow come with your buzz already on. Since it can get quite expensive here I found that it attracted a 30+ crowd. Nevertheless it was beautiful and I loved their ancient Greek tribal atmosphere. The music consisted mostly of techno tribal beats with it was a cool spot to hang out, dance, listen to music, and people watch. This place also happens to be the sister property for the San Giorgio Hotel so if you are staying at the hotel you get line bypass and priority access. A lot of the DJ's that play at Scorpios also end up being put up at San Giorgio so don't be surprised if you see them poolside at the hotel the next day ;)
Cavo Paradiso - If you want to party until the sun comes up then this is where you need to go. Scorpios and the beach clubs on Paraga beach usually close down around 1:30 am but the party is still going on at the beach on the other side of the hotel – Paradise beach. Cavo Paradiso is on the point just after Paradise beach (you can literally see it from the hotel) and takes about 15-20 minutes to walk to from the hotel. Here you will find a younger, hostel crowd who want to stay up all night and party! This is the only club we went to while in Mykonos where we had to pay cover (20 Euro) but we got what we paid for and were able to dance all night to a sick DJ (FULL DISCLOSURE: I was pretty tipsy and couldn't tell you his name, but all I remember is dancing up a storm!) and had a great 'party night in Mykonos' experience. We ended up staying here until the sun came up and walked back to our hotel, totally ready for bed.
Faros Lighthouse - always a sucker for a good sunset, if you are interested in the best spot to watch it from, you just found it. Though, since it is located on the north side of the island, you will only be able to do this if you have a car.
Although Santorini and Mykonos were two destinations I was dying to visit I really could not have pulled this trip together without my partnership with Booking.com. I have used their site in the past for many of my accommodations reservations and am happy to pass on a 15% savings to you on your next trip with my discount code. No matter where you want to go, whether the US, Europe, a festival or a weekend cottage getaway, Booking.com has such an array of properties and accommodations to choose from they are easily my #1 site. Be a savvy traveler like me! Save on your next reservation and spend that money on a dinner or activity instead!
If you have any questions about my Santorini/Mykonos trip feel free to hit me up in the comment sections below!