I recently arrived back from a short but sweet trip to one of America's oldest cities – Boston. This was the first time I have ever really had the chance to explore Boston properly so you know I had to hit the ground running!!!
Ok so after arriving in Boston, looking for the best attractions and restaurants was a little hard. I don't necessarily think that their food scene is that obvious meaning I have heard from others that it's there, but still quiet underground so make sure to ask locals for recommendations if you can. A lot of establishments have been around for a while so finding the coolest new places can be a challenge, however I managed to find something for everyone!
SIDE NOTE: If you are flying into Boston's Logan airport make sure to look out the window during landing! The Boston Logan airport is located on the waterfront and you get absolutely picturesque views of the city!!!!
First things first! Things to do!!!!
Samuel Adams Brewery - 30 Germania St, Boston, MA
I made sure that I stopped by the Samuel Adams brewery. Not just because they have tours starting from 11-4 every day for a simple $2 donation (proceed go to one of their chosen charities), but you also get FREE samples!!!! Tours are about 45 minutes long and include a FREE sample tumbler souvenir as well!
Fun facts about the Samuel Adams Brewery:
- They let you sample and review beer that isn't on the market a.k.a. you get to give the 'Gladiator' thumb-of-approval
- Boston is home to a Samuel Adams beer you can't find anywhere else! It's called the Boston Brick Red and its only available on tap and in Boston.
- Boston water (as in PH levels, Dissolved Oxygen, Chlorophyll and other Fluorescing Materials levels, etc) is one of the most important components to the flavor profile you can find in their beer. Samuel Adams does have breweries in other states and they will break down their local water content and build it up again to match Boston's water profile before brewing.
- Samuel Adams (a founding father of America) didn't start the Samuel Adams Brewing Company - Jim Koch's did in 1984
- Their autumn seasonal Octoberfest beer is available August through October and can be purchased in the gift shop along with other small batch growlers! I grabbed their Blueberry growler and it was so YUM!
SAMUEL ADAMS BREWERY -> LINK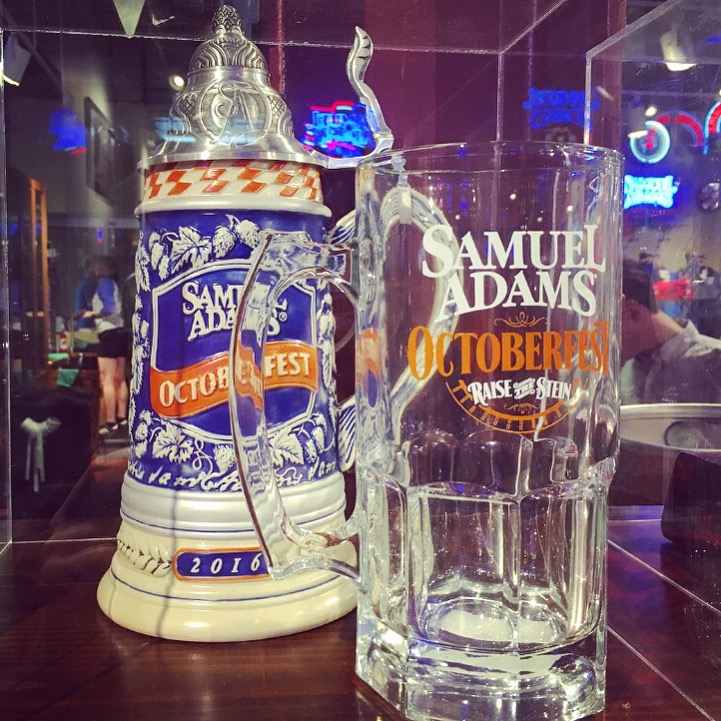 Isabelle Stewart Gardner Museum - 25 Evans Way, Boston, MA
This museum is better known for its gorgeous courtyard, which is ideal for amazing photo opportunities. The Isabelle Stewart Gardner Museum is the converted residence of Isabelle Stewart Gardner – an American art collector, philanthropist, and patron of the arts. She was a very affluent lady in her time and incorporated her property into the museum in 1900. Today, the museum hosts exhibitions of historic and contemporary art, as well as concerts, lectures, family and community programs, and changing courtyard displays.
Fun fact about the Isabella Stewart Gardner Museum:
- admittance is discounted to those wearing Boston Red Sox memorabilia, and is free to anyone named Isabella!
ISABELLE STEWART GARDNER MUSEUM -> LINK
Quincy Market - 367 S Market St, Boston, MA
Quincy Market is a historic market complex near Faneuil Hall in downtown Boston (near the water). I loved this place and found it a great place to stop after you explore the Boston harbor. The market itself offers a wide range of food vendors and restaurants. The market can get a bit hectic on the weekend but is still a fun place to go if you want a family friendly activity. Also expect to see horse drawn carriages around the market/Faneuil Hall and street busker performances.
QUINCY MARKET -> LINK
Place to eat! YUM!
Sorellina – Fine Dining $$$$ 1 Huntington Ave, Boston, MA
I loved the Italian-Mediterranean cuisine at this restaurant. I ordered the octopus appetizer with squid ink cous cous and it was a symphony of flavors in my mouth. This restaurant is super posh so it's great for a nice celebratory dinner occasion or if you are looking to really impress someone. Wink wink nudge nudge.
SORELLINA -> LINK
Saltie Girl – New Seafood Restaurant/Oyster Bar $$$ 281 Dartmouth St, Boston, MA
A new comer to the Boston restaurant scene, Saltie Girl is an oyster bar and seafood paradise. Boston is known for their lobster rolls and clam chowder and you can definitely get both of these staples here! I got their spicy tuna carpaccio, which was literally art on a plate. I also would recommend their Foie Gras with brioche as it was so decadent and delicious it brought tears to my eyes – ok not really but you get the point! LOL!
SALTIE GIRL -> LINK
Kashmir – Indian $$ 279 Newbury St, Boston, MA
Located on Boston's famous Newbury Street this place serves up some great Indian food. I had their version of Chana Masala and a side of their Dahl and had absolutely no regrets! You can also enjoy their patio and free WIFI if you're in the area and are in need of refreshments or a break from shopping.
KASHMIR -> LINK
Gourmet Dumpling House – Chinese $$ 52 Beach St, Boston, MA
I was recommended this place by one of my followers and I am so glad I went. This little dumpling house located in Boston's Chinatown was packed full of people and served up some pretty awesome steamed dumplings. Expect very nice portions that are good for sharing.
GOURMET DUMPLING HOUSE -> LINK
Other fun stuff to do in Boston
If the Red Sox are in town go to Fenway Park to see a game!!!! -> LINK
Keep an eye out for awesome acts at the House of Blues!!! -> LINK
Zip around the waterfront in a speedboat called Codzilla!! - This looks like a lot of fun and I wish I could of done this! Be prepared to get wet! -> LINK